DRYWALL CONTRACTOR


CREVE COEUR,MO
CREVE COEUR DRYWALL REVOLUTION

DRYWALL INSTALLATION | DRYWALL CEILING REPAIR | BASEMENT AND GARAGE DRYWALL | DRYWALL TAPING
YOUR GO-TO SERVICES FOR ALL YOUR CREVE COEUR DRYWALL NEEDS!
Does your drywall project need professional help? Or are you looking for reliable and professional drywall contractors in Creve Coeur and the surrounding area? Here at St. Louis Drywall Pros, we specialize in all aspects of residential and commercial drywall installation and drywall repair, helping our clients create durable, attractive spaces that can withstand time and wear while maintaining their aesthetic appeal.
With years of experience working with customers throughout the area, our skilled team knows exactly how to get even the toughest job done right – with great attention to detail, ensuring a smooth finish every time! Whether hanging new drywall or patching up existing walls, we guarantee top-notch results that'll last for many years. So whether you want to revamp your living room walls or complete a full-scale office building remodel – St. Louis Drywall Pros has got you covered.
ABOUT US
St. Louis Drywall Pros is a team of a highly experienced painting and drywall contractors specializing in quality residential and commercial interior painting and wall repair services throughout Creve Coeur MO and the surrounding area. Our experienced team of certified professionals is committed to quality, focusing on creating high-end results at an affordable price. Every job we take is important to us, no matter its size or complexity, and our customers are always our top priority.
We offer free estimates and flexible hours so our clients can be assured of convenience and satisfaction. With an A+ rating and BBB rating with testimony to our dedication to excellent customer service, St. Louis Drywall Pros is your number-one choice for all your drywall needs!
WE BUILD TO LAST; WE REPAIR WITH CARE
When you work with St. Louis Drywall Pros, you can expect to get quality results that will stand the test of time. We are committed to offering our customers a professional and reliable service every time. Our team of drywall contractors strives to provide superior results that will make your walls look stunning. Be ready to enjoy the results of our hard work for years to come!
St. Louis Drywall ProS offers various services, including residential drywall installation, commercial drywall installation, drywall repairs, drywall taping, basement and garage drywall work, and home remodeling services. Whether you are a homeowner or business owner needing quality drywall services, you can count on us to get the job done right. Creve Coeur drywall contractors are not just your typical drywall contractors – we pride ourselves on providing professional-grade results that are sure to last.
RESIDENTIAL DRYWALL
CREVE COEUR, MO
At St. Louis Drywall Pros, our drywall contractors specialize in residential drywalling services for new construction homes as well as existing homes that need repair or remodeling work done. Our general contractor will ensure that your walls are installed with precision and attention to detail so that they look great and last for many years to come. Our team is experienced with all types of residential projects, from small repairs to large-scale installations in newly built homes or older houses that require major renovation work.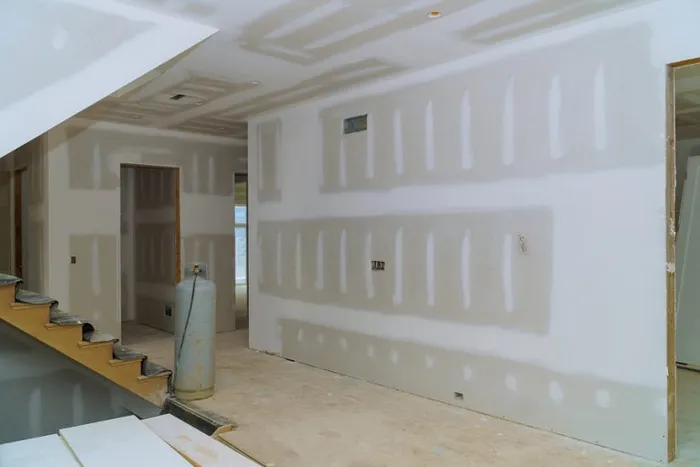 COMMERCIAL DRYWALL
CREVE COEUR, MO
St. Louis Drywall Pros also specializes in commercial drywalling services for offices, retail stores, warehouses, and other types of businesses throughout the area. Our building contractors understand how important it is to complete these projects quickly and efficiently so that your business operations can continue without interruption. We guarantee that all of our work meets local building codes and safety requirements so that your business remains compliant and up-to-date with industry standards. 
DRYWALL REPAIRS
CREVE COEUR, MO
With our team of experienced and knowledgeable professionals, St. Louis gives our customers top-notch drywall repair services. Our drywall contractors use high-quality materials and maintain the highest workmanship standards to ensure the most reliable and long-lasting repairs possible. Whether customers need help patching a few holes or completing larger renovations, St. Louis is prepared to handle it professionally and efficiently. Customers can be confident that their repairs will be completed quickly, effectively, and safely – all for an affordable price!
DRYWALL TAPING
CREVE COEUR, MO
Our drywall taping service is perfect for those who want their walls to look new. We use a unique method that helps us apply the perfect amount of adhesive to each wall. Our team of expert drywall contractors will ensure each wall looks smooth even before painting or finishing it off with a texture of your choice. 
BASEMENT & GARAGES DRYWALL INSTALL
CREVE COEUR, MO
If you're looking to have new drywall installed in your basement or garage, then our team at St. Louis Drywall Pros can definitely help you out! We'll ensure that your space gets properly insulated and that any wiring is done correctly so that everything works perfectly. Additionally, our team can install any trim or molding needed for an aesthetically pleasing finish.  
HOME REMODEL
CREVE COEUR, MO
We are also proud to offer home remodeling services as well! Whether you want to add new features to your home, such as an extra bedroom or bathroom, or if you want to update the look of your current room, we can help with all your home remodeling projects! Our team of experts will ensure everything is done correctly and up to code while delivering beautiful results on time and within budget. 
TOP SITES OF CREVE COEUR, MO
At St. Louis Drywall Pros, we strive to provide excellence and great work in all the services we offer! Our team comprises experienced professionals who have worked in this industry for years – so you can trust drywall contractors with any job, big or small! If you're looking for reliable drywalling or home remodeling services in the Creve Coeur MO area, contact us today! As we aim for customer satisfaction, we'll be more than happy to answer any questions you may have about our range of services available.
We will drive anywhere a drywall service is in need. You can count on us to call you back within the hour and send someone out to your St. Louis area home to give you a FREE estimate. That's the St. Louis Drywall Pros Way!